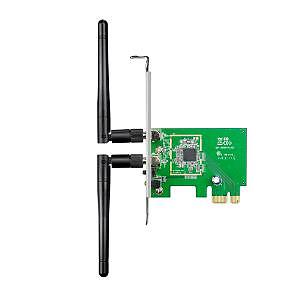 Item specifics
Condition:

Brand New:

A brand-new, unused, unopened, undamaged item in its original packaging (where packaging is

... Read moreabout the condition

Brand:

Asus

MPN:

PCE-N15

UPC:

4719543379790
Asus Pce-n15 N300 Wireless Pcie Adapter Pce-n15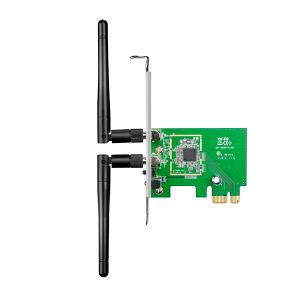 Item Description
PCE-N15
300Mbps 802.11b/g/n Wireless PCI-E Adapter
WPS(Wi-Fi Protected Setup) button - Quickly set up a secure wireless connection
Software AP - Connect your notebook and game consoles to the Internet
Supports WEP, WPA-PSK, and WPA2-PSK methods for enhanced security
WPS(Wi-Fi Protected Setup) button
For quickly setting up a secure wireless connection. Press the Hardware WPS button on PCE-N15 about 3 seconds, then press the WPS button on router as well. Either you can choose to use software WPS, enabling the WPS utility in the WPS Wizard interface. And finish the setup with 3 steps

Software AP
Software AP mode allows the WLAN card to act as a virtual access point. The computer needs to be connected to a wired network using an Ethernet connection in order to provide network access to WLAN client.

Specifications
Network Standard IEEE 802.11 b/g/n
Interface PCI Express
Antenna 2 x R SMA Antenna
Operating Frequency 2.4GHz
Operation Channel 11 for N. America, 14 Japan, 13 Europe (ETSI)
Data Rate 802.11 b/g/n : downlink up to 300Mbps, uplink up to 300Mbps(20/40MHz)
Output Power b mode : 15 ~19 dBm
g mode : 13 ~17 dBm
n mode : 12 ~16 dBm
Modulation CCK, DQPSK, DBPSK, OFDM
Management Software AP
Utilities Wireless setting, Site survey, WPS Wizard
Security 64-bit WEP, 128-bit WEP, WPA2-PSK, WPA-PSK, WPS support
Certificates CE, FCC, C-Tick, IC
Dimensions 120.5 x 21.6 x 22 mm (WxDxH)
Weight 62.6 g (Device Only)
Environmental Operating Temperature: 0 C to 45 C (32 F to 104 F)
Storage Temperature: -20 to 65 C (-4 F to 149 F)
Operating Humidity: 5 % to 95 % (Non-condensing)
Storage Humidity: 5 % to 95 % (Non-condensing)
OS Support Windows 7 32bit/64bit
Windows Vista 32bit/64bit
Windows XP 32bit/64bit
Linux Kernel 2.6 (Support Ubuntu only)
Package Content Support CD
Warranty card
Low Profile Bracket
Dipole Antenna x 2
ment
We Accept pal
Shipping
Freight Policy

Picking up orders
Sorry we don't stock anything at our office, pick up is not an option and is not available.

Delivery Address and Contact Details:
When placing an order with us, where we are to deliver goods to you, we require a physical street address. To assist us in processing your order, please also provide your land-line and mobile telephone number. Delivery is via courier and we can only deliver to physical address. Please note that an authorized signatory needs to be at the delivery address to sign for and collect the goods, and that photo identification may be requested.

Stock Availability
The stock availability indicator can only be treated as a general guide and is updated once every working day. There are occasional chances that an order of the exact product may be placed minutes before yours. You will be notify as soon as possible if that happens and a full refund can be given if you do not wish to wait for the backorder.

Delivery Charges
Delivery charges will be calculated via our frieght calculator using your Post Code when you add to basket. Combine shipping is as per listing

Proof of Delivery
If you haven't received your order or require a proof of delivery after the standard lead time, please msg us.

Delivery Lead Time
For delivery to major State, Territory cities and their surrounding areas, please allow 3-8 working days from date of clearance of ment providing stock is available for delivery.

For delivery to more remote or rural areas, please allow a further 1-2 working days.
For computer systems, please allow a further 2-3 working days for assemble and testing.

Despite the fact that we try our very best to keep at least 80% of what we sell, certain products are hard to obtain. If there's a delay to your order, you'll be informed of the ETA (estimated time of arrival) via email or phone.
Returns
Procedures for Warranty Returns
1) Please check the vendor list below if your product that is to be serviced can be dealt directly with the vendor, The vendor contact numbers are listed below. Normally it is much quicker to return to the vendor for warranty.

2) Make sure that the product you send back to us is faulty, as we may charge a labour fee if there's no fault found with the product. Our experience shows that 30% of the goods sent back to us are not faulty.

3) Email us @ [email removed by ]. Include your invoice no, product you wish to return, and reasons for return. Please clearly include your fault description in the reason for return. Status for your warranty return will also be updated in this section as well.

4) We will then issue you an RA number. You must include the RA number clearly visible on the outer packaging.

5) ALL products being returned must be 100% complete and must be packaged in ORIGINAL PACKAGING with the Return Authority (RA) number clearly visible. All packing materials, manuals, ettes, CDs, digital media, blank warranty cards and other accessories and documentation must be included in the original packaging, as provided by the manufacturer. A return will not be processed, or a restocking fee may be charged in the event ANY item(s) included in the original shipment to you is not present in the returned package. Items sent for return consideration will be immediately denied and i-tech's return policy will NOT BE HONORED in the event that a return shipment is received by us improperly packaged, altered or physically damaged.

6) As soon as your product is repaired or replaced, we will send it back to you at our own cost.

7) All products returned for repair will be accepted under the terms of the warranty agreement, as stipulated by the manufacturer.

Goods returned for warranty are accepted subject to inspection of the manufacturer and/or the authorised repairer agent. You may check the status of your goods returned by emailing: [email removed by ] with your RA number.

Damaged Product In Transit

Please read the following carefully for the claim of the damaged goods in transit.
1) Ensure if any damage has been incurred in transit, cuser MUST mark as DAMAGED GOODS prior to signing on the Proof of Delivery docket.

2) Consignments where inspection prior to signing off to the driver is not possible, MUST mark Subject to Inspection, and the matter MUST be reported to the courier via the numbers below within 24 hours of delivery.

3) Keep the goods in question in case the courier need to inspect and / or salvage.

4) Evidence of damage of goods and packaging internally and externally, ie take photos

5) Ensure to make a note of who you speak to and try to get the case number or reference number for the incident from the courier.6) After all the above are done, email to [email removed by ] with any of the reference given to you by the courier company and wait for us to issue you the RA#, then you can return the item to us and we will claim for the insurance from the courier company

7) Once the claim have being lodge and approved, we'll ship out a replacement to you as soon as possible.

8) Please be informed that unless all the above procedures and notations are made, the claim of the damaged good will be rejected.

Returning Goods
All goods are to be returned, in a suitable shipping container and with the RA number clearly visible on the outer packaging to:

RA # (Your RA Number)
RA Department
Internet Technology Group Pty Ltd
Suite 35 Level 2
330 Wattle Street
Ultimo NSW 2007

Warranty Statement
All Products come standard with one year manufacturers' warranty unless otherwise stated.

All new PCs comes standard with 1 year Parts 3 Years Labour Return to Base Warranty.

Full deposited funds may not be refunded if you wish to cancel your order.

Internet Technology Group Pty Ltd will not accept and replace any damaged goods caused by misuse or improper handling.
Labour and delivery (to and from) will be charged if goods returned found not faulty.

Software is non-refundable if opened.

Servicing and maintenance are covered with 90 days warranty only.

Networking and software error is not warrantable.

Charges may incur for networking repair due to human error.

Internet Technology Corporation Pty Ltd are not responsible for any loss or damage that occurs to any product whilst in transit.

Goods Returning For Credit
Goods returned within the warranty period that are not repairable or have been obsoleted will be replaced with a similar model or given a refund for their current market value due to the nature of computer industry.

under ACCC guidelines for refunds of goods under warranty claims - specifically the ACCC quotes as follows on their web site : "If the goods being returned have had a fair amount of use then you may be entitled to a partial refund only or to repair the product insd" Defective items within the DOA period of 7 days, take 2-5 business days for us to process and ship the replacement item to you.

Defective items returned for warranty after the DOA period generally take 2-4 weeks to be sent back to the manufacturer for repair / replacement.

Please also note that incompatibility is NOT a fault. We cannot ensure what you purchased is compatible with what you have existing.

We reserve our right to refuse return if the good is not faulty.
About Us
We are a fresh, innovative and dynamic IT company. We supply a large range of computer products and services with the latest technology at the best value. We cater for individuals, small and medium-sized businesses, and corporate clients. At Spotit, our bot line isn't just about dollars and cents. It's about the people we do business with -- our cusers, coworkers and community members. We have a long history of providing computing solutions built for business cusers -- and we welcome the chance to share our story with you. Whether you're a cuser, prospective employee, journalist, this part of our site was created to bring you inside our company -- past, present and future.
On top of our wide range of products, we also offer friendly, helpful, affordable services. We offer an affordable and effective web-design m to create a tailor-make website to specifically suit your particular business needs, offering e-commerce solutions, on-line shop. Networking setup (file, internet and printer sharing) is also available with our experienced networking m.
Why Shop With Us?
When you shop with Spotit, you'll choose from brand name ?the industry's top names ?at prices simply not possible retail. But that's just the beginning. We also carry a vast inventory of components: motherboards, processors, hard drives, optical drives, cases and more. You'll find emerging technologies as well, because at the end of the day, we love what we sell.
Here are just a few of the reasons why you should shop with us:
We treat every cuser with respect. We consider every transaction of critical importance.
We offer the industry's highest-quality products at the lowest-possible prices.
We offer the most complete product information and photo galleries available.
We ship most orders placed before 10am EST anywhere the following working day.
We carry the world's largest selection of computer components, making us the reseller of choice for the "Build-It-Yourselfer."
We provide our cusers with information---on the phone, in our newsletter, or on our web site, to make informed choices. Each of our telephone representatives is continually trained by the manufacturers of the products we sell. They can answer your questions instantly.
We have established BUYING POWER, which means we can buy products at prices far below our competition---and pass the savings along to you.
We contact opt-in e-mail cusers with the opportunity to purchase great deals on limited-quantity products.
We offer corporate and government cusers competitive prices and quick delivery.
Corporate Overview
Spotit's business model focuses on small- and medium-sized businesses with over 90 percent of sales derived from commercial accounts. Spotit has built strong relationships within the technology sector and we are a leading direct source for Cisco, Compaq, Hewlett-Packard, IBM, Intel, Microsoft, Sony, Toshiba, and other top name brands. Our success is due to our exceptional coworkers, who are the most important element of Spotit's business strategy. To foster our coworkers' success, Spotit has designed a rewarding and challenging work place, recognized as one of the best companies to work for in Australia.
Corporate Philosophy
Spotit's founding principles are organized into the "Circle of Service" philosophy, where "everything revolves around the cuser." As the framework for our business model, the Circle of Service keeps everyone at Spotit focused on our cusers.
Business Model
More than 1,000 systems are cusized to cuser's specifications with brand name hardware and software by Spotit technicians monthly


Spotit's inventory, shipping and delivery operations are highly auated. The company's state-of-the-art operations incorporate proprietary technology developed by Spotit to complete cuser transactions in the industry's most cost-effective and efficient manner
Technical Support
Free access to online technical support, including a searchable database of FAQs and direct links to manufacturers' tech support Web sites

Full time staff with full experiences in Microsoft products, software, hardware and many more
All Spotit technicians receive ongoing training to enhance their skills and knowledge needed to provide the highest level of technical support to cusers.
Company Information
Trading Name: INTERNET TECHNOLOGY GROUP PTY LTD
ACN/ ABN: 159 649 813/ 44 159 649 813
Contact Us
Contact Us